Tell us a bit about your background
Born and raised in the small town of Alexandroupoli, Greece. Studied physics at the Aristotle University of Thessaloniki and moved to Stockholm in 2011 for my Master in theoretical physics at Stockholm University. Particle physics and statistical physics were my main scientific interests.
After my studies, even though my intention was to apply for a Ph.D. position, I instead decided to work on my then hobby, which was filmmaking. After working for different clients, I started being interested in science communication through video means, which led to my first job as dissemination officer at KTH for European-funded HPC projects. I had the privilege of working on projects like EPiGRAM and EPiGRAM-HS, SAGE and SAGE2, VESTEC, and Bioexcel.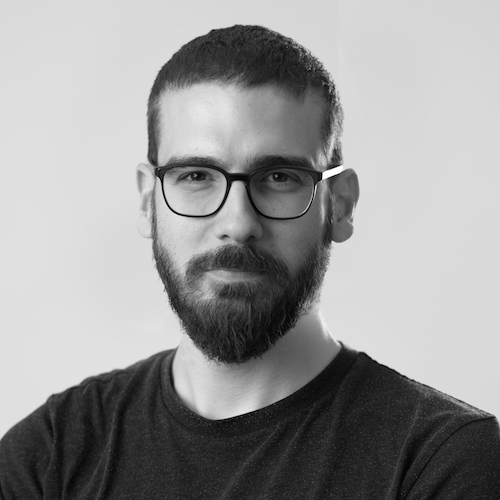 What is your role at ENCCS?
At ENCCS I work as dissemination coordinator. The task is to make our work visible to our target audience. That includes advertising our training schedule and industry collaborations, maintaining our website, taking care of the branding with logos and visuals, and of course creating videos.
What do you enjoy most about your job?
For me the essence of my work is combining my two main interests; Science and artistic expression. ENCCS supports a vast range of scientific disciplines which means that we get an insight into new trends and new paths to scientific excellence. My job is to communicate and disseminate these aspects as effectively as possible. For this to happen, my artistic tools need to be put to work in order to create impact.
Where do you hope to see ENCCS in 5 years?
At the moment we have a great team of experts in really important scientific fields from climate and biomolecular science to A.I., which I believe it's going to grow larger very soon. It will be exciting to see where new collaborations will lead us. We are certainly ready to tackle any new challenge.
What do you like doing outside of work?
It goes without saying that I'm a cinema nerd and love watching films and TV series (favourite film "Life of Brian", favourite series "The Office"). I tend to play play guitar late in the evening to relax. I also love biking during the Swedish winter. Recently, I've gotten a dog and training him to learn to behave is my new part-time job.