Nov 21
•
09:30
–
Nov 22
•
15:00
CET
Overview
Welcome to ENCCS Industry Days 2023! This event provides a comprehensive introduction to supercomputing, targeted towards a broad audience, for example:
Companies that have an AI solution on their laptop but are eager to run on larger datasets,
organizations that simulate market stocks, macroeconomic predictions, as well as life science and physics simulations,
public authorities working with air pollution modelling, or training neural language models,
and much more
Who is Industry Days for?
Industry Days is for both managers and software developers who are interested in finding out how supercomputers are used in different industrial sectors.
Join us for 2 days full of experience, exchange, and exploration of possibilities to use supercomputers and obtain support in improving your software solutions.
How can small businesses take advantage of HPC for free using EuroHPC JU resources?
What can we learn from scientific areas that traditionally use HPC?
How can businesses use HPC to improve their services or products?
During the event, leading people from Sweden and around the world will provide success stories and use cases, and lead discussions on the use of HPC in the industry. Check the success stories with companies and organisations that already got supercomputing access.
Industry Days Preliminary Agenda
---
Day 1 – Tuesday, 21 November 2023
Time
Topic
09:30−10:00
Coffee and registration ☕️📄
10:00−12:00
Presentations/Panel
Creating opportunities.
How can we create the best conditions for industry, research and SMEs to develop in Europe?
Moderator: Jeanette Nilsson.

Panel:
• The mission of RISE – Hanifeh Kayyeri, RISE AB
• What is the EuroHPC JU – Lilit Axner, EuroHPC JU
• The Swedish Research Council – Malin Sandstöm, Vetenskapsrådet
• Vinnova Digital transformation – Jeannette Spühler, Vinnova
• Arrhenius/NAISS – Jan-Eric Sundgren, NAISS
12:00−13:00
Lunch 🥙
13:00−14:00
Presentations/Panel
AI Meets HPC.
How can HPC become an opportunity for more people in the AI ecosystem?
Moderator: Thor Wikfeldt ENCCS/RISE

Panel:
• Towards use of AI as an accessory and accelerator at SMHI – Ashwin Mohanan, SMHI
• AI at the National Library – Robin Kurtz, Kungliga Biblioteket
• Martin Körling, evroc
14:00−15:00
Presentations/Panel
What infrastructure is there for users?
Moderator: Thor Wikfeldt

Speakers:
• CitCom.ai – Petra Dalunde RISE AI-TEF
• SciLifeLab, NBIS – Jessika Lindvall
• NAISS – Jan-Eric Sundgren, Teknikföretagen, NAISS
14.45–15:15
Coffee break ☕️
15:15–16:30
Presentations/Panel
Supporting industry and SME
Start-up, Venture capital and different initiatives from national and EU level to enable for more new opportunities and growth in Europe.

Moderator: Jeanette Nilsson

Panel
• Jens Lundström, Space-BIC Incubator, Artic incubator
• Venture capital to enable new opportunities and growth in Europe – Salla Franzén, Navigareventures
• HPC 4 SMEs – Morgan Ericsson, Linné Universitetet
• Digital Earth Sweden and the Swedish Space Data Lab – Tobias Edman, RISE Space
16:30–17:00
Presentation
ColonyOS
An opportunity for users to easily include a supercomputer in their current workflow.

Speaker:
Johan Kristiansson, RISE
17:00
Closing
19:00
Social event
Dinner at Aifur in Gamla Stan. 🍽️
---
Day 2 – Wednesday, 22 November 2023
Time
Topic
09:00−09:30
Presentation
Presentation of Castiel and the NCC project, possibilities for SME and research.

Speaker:
Castiel-2 and the NCCs project, possibilities for SMEs and research – Marie-Françoise Gerard, CASTIEL
09:30−10:30
Presentations/Panel
How can Industry benefit from Castiel and other European initiatives?
Moderator: Thor Wikfeldt

Panel
• Ecobloom – Hamza Qadoumi, Ecoblom
• Mattias Chevalier, Scania
• High performance computing at Sandvik Coromant – Erik Holmström, Sandvik
10:30−11:00
Coffee break ☕️
11:00−12:00
Presentations/Panel
HPC Centers of Excellence
How the major investments in infrastructure in HPC strengthen sustainable development, BioExcel, Plasma-PEPSC and CEEC.
Moderator: Thor Wikfeldt

Speakers/panel:
• Rossen Apostolov, BioExcel CoE
• Niclas Jansson – CEEC CoE
• Stefano Markidis – Plasma-PEPSC CoE
12:00−13:00
Lunch 🥙
13:00–14:00
Presentations/Panel
Quantum computing as the new game-changer.
How are we doing in Sweden and what can we expect in the future?
Moderator: Erik Källman, RISE

• Quantum computing in Sweden in a Nordic and EU perspective – Göran Wendin, Chalmers
• Jonas Almlöf/ Gemma Vall-Ilosera, Ericsson
14:00–14:30
Presentation
What has been achieved in the first phase of ENCCS and what will happen in the next few years?

Success stories – Thor Wikfeldt, ENCCS
14:30–15:00
Panel
How can we strengthen our cooperation in the Nordics?

Panel:
• Morthen Mathiesen, NCC Finland
• Dennis Wollbrink, NCC Denmark
• Thor Wikfeldt, NCC Sweden

15:00
Closing

Venue
Industry Days 2023 is going to be held at the RISE offices on KTH campus Drottning Kristinas väg 61 in room Innoversum. The closest metro station (marked T) is Tekniska Högskolan.
Public transport
Download the public transport app on the App Store or Google Play in order to get a
Single journey ticket
24-hour ticket
72-hour ticket
You can also use your regular credit card by scanning it on the metro and all busses. You can find more information here.
From the airport you can either:
Take Arlanda Express, a fast train that takes 20 minutes to T-Centralen.
Take Flygbussarna that take approximately 45 minutes to T-Centralen.
Take a taxi.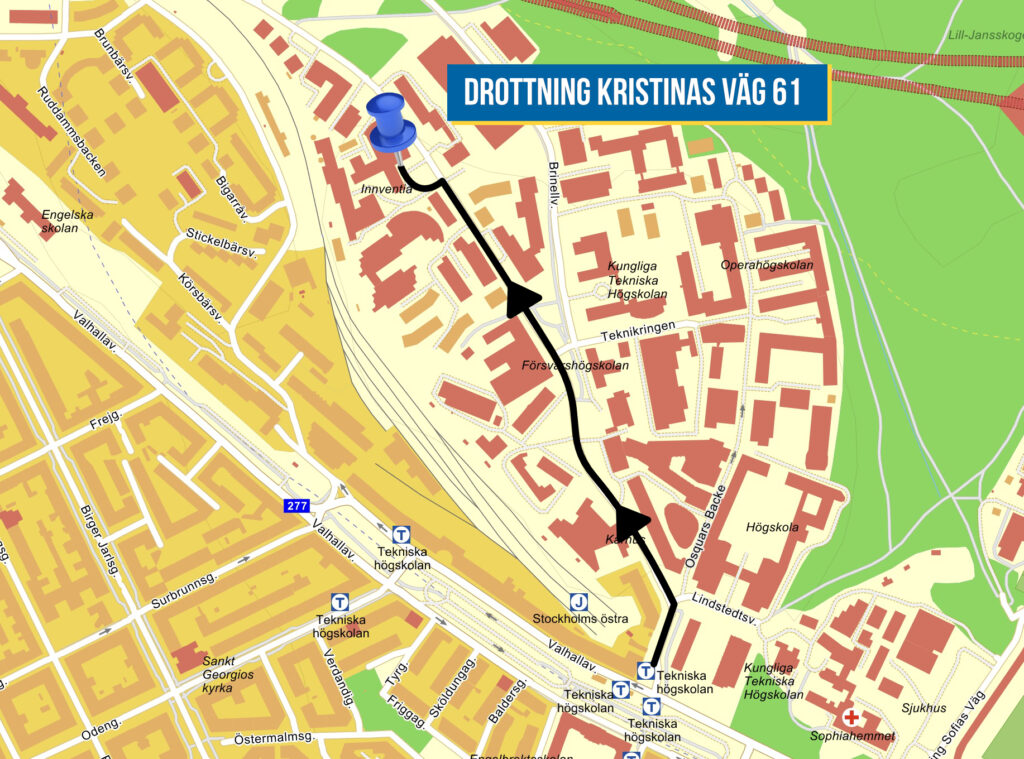 Accommodation
There are multiple hotels in the vicinity. Below you can find some hotels in order of proximity.
Social events
Dinner on the 21st of November will be held in Aifur in Gamla Stan, a traditional Nordic cuisine restaurant. Find it on Google Maps here.
Contact people