ENCCS has participated in ISC23 in Hamburg, 22-24 May 2023. ISC is a leading conference where multiple vendors, organisations, projects and initiatives around the world gather to interact and share ideas in supercomputing and quantum computing. As part of EuroHPC JU and the EuroCC project we are committed in contributing in HPC and quantum computing competence building in multiple sectors.
At the EuroHPC JU booth ENCCS discussed about the current and future supercomputers in Europe like LUMI, Leonardo, Deucalion, Marenostrum 5, while focusing on the services that EuroCC provides to new and experienced users for those systems. ISC23 is an ideal place to meet different initiatives and form future collaborations including companies specialised in HPC and quantum computing software and hardware, CoEs and other European funded projects.
ENCCS, being the frontrunner in Europe in assisting SMEs and public authorities in accessing EuroHPC JU supercomputers, shared knowledge and best practices, as well as got new ideas from other Competence Centres and Centres of Excellence. By taking part in multiple BoF sessions we had the opportunity to talk about our successes and challenges in getting different sectors participating in our training events, while providing important know-how and hands-on support.
Training BoF Session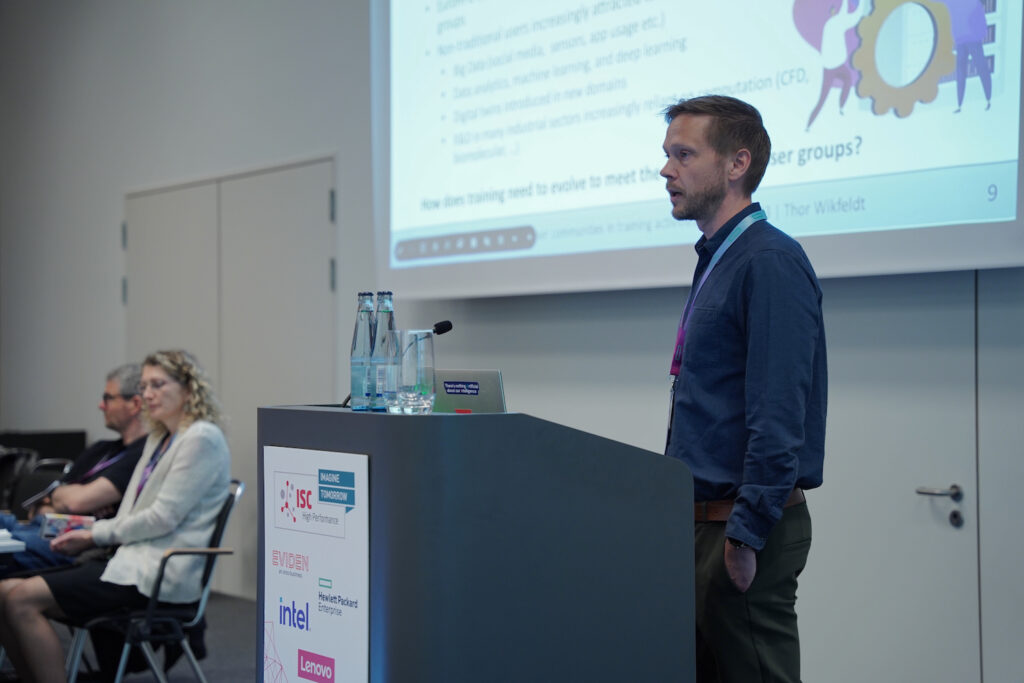 ENCCS director Thor Wikfeldt was one of the organisers of the BoF session "Future of HPC training: Where are we going?". Certification on HPC competences was an important topic that was discussed, together with how to bring new users from non-traditional HPC sectors like the humanities that have nowadays increasing needs of analysing large data. Energy efficiency in training was another subject that was discussed.
The interactive session with the audience gave insights on what the needs of different sectors and industries look like. These results, together with past surveys will form the ground for future strategic decisions on the types and the thematics of our training schedule which is continuously updated. You can access the results of the audience poll here.
ENCCS continues to listen to industry's needs for adjusting its services and for supporting new users in their computational work.